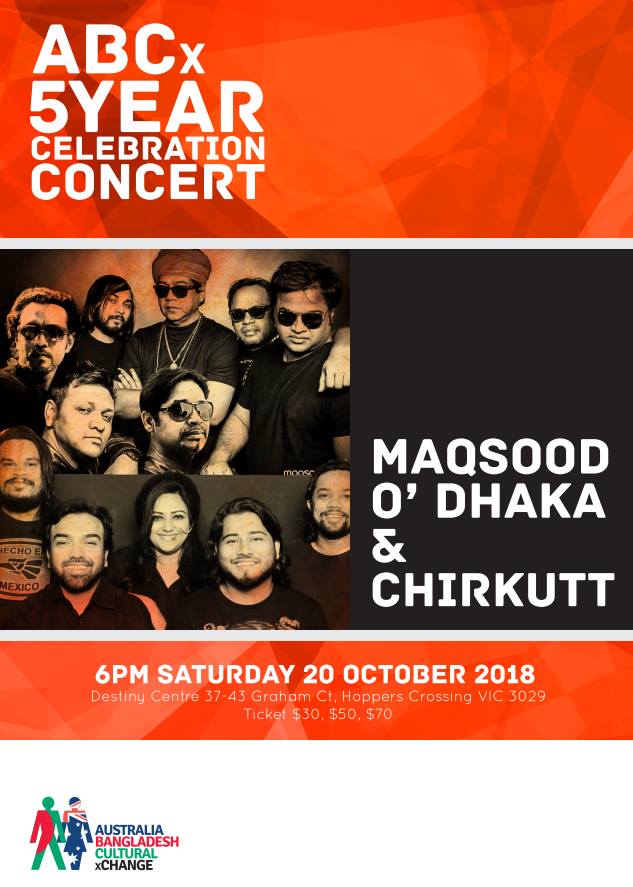 ABCx 5 Year Celebration Concert || Melbourne
Date20 Oct, 2018
Starts18:00
Ends22:00
VenueDestiny Centre: Hoppers Crossing
Location37-43 Graham Ct, Hoppers Crossing VIC 3029
StatusTickets Available
Australia Bangladesh Cultural Exchange Inc. (ABCx) is an organisation of Bangladeshis living in Australia. It was created to undertake, uphold and nurture the cultural heritage of Bangladesh, to augment bondage among the community members and also to retain the distinct identity and values of Bangladeshis in the society. We are glad to announce that ABCx has turned 5 this year with your support and encouragement.

Over the last half of a decade, we successfully organised concerts of legendary bands like LRB , James and Nogor Baul, Miles and many more solo performers such as Shafin Ahmed, Sumon, Rafa, Ifti, Mala and our beloved local band Simin & Friends where people got the chance to relive the Bangladeshi concert experience in Australia.

We are proud to have been the Exhibitor of Contemporary Art of Bangladesh in Australia, collaborating with Bengal Art Foundation in March-April 2014, where we were able to host Legendary Artists like Qayyum Chowdhury, Tahera Khanam, Rafiqun Nabi, Monirul Islam, Abdus Shakoor Sha, Farida Zaman, Ranjit Das, Rokeya Sultana, Kanak Chanpa Chakma and Mohammad Iqbal.

We also successfully organised the biggest event of our community "Boishakhi Mela", for the past few years, where Bangladeshis got the chance to enjoy the festivity of Boishakh while simultaneously displaying our culture to the wider Victorian multicultural society.

We successfully hosted movie screenings for Aynabaaji, Doob, Swapnajaal etc where the community members were thrilled to enjoy quality Bangladeshi movies.

Now we are thrilled to announce that ABCx is going to organise a Mega Concert, featuring the legendary 'Maqsood O' Dhaka', and the famous band of present time, 'Chirkutt', to celebrate its 5 years of triumph.

Dear patrons, ABCx (Australia Bangladesh Cultural Exchange inc.) cordially invites you to attend one of the biggest musical events of the year: "ABCx 5 Year Celebration Concert" featuring Maqsood O' Dhaka and Chirkutt.



Get Direction here
---
---