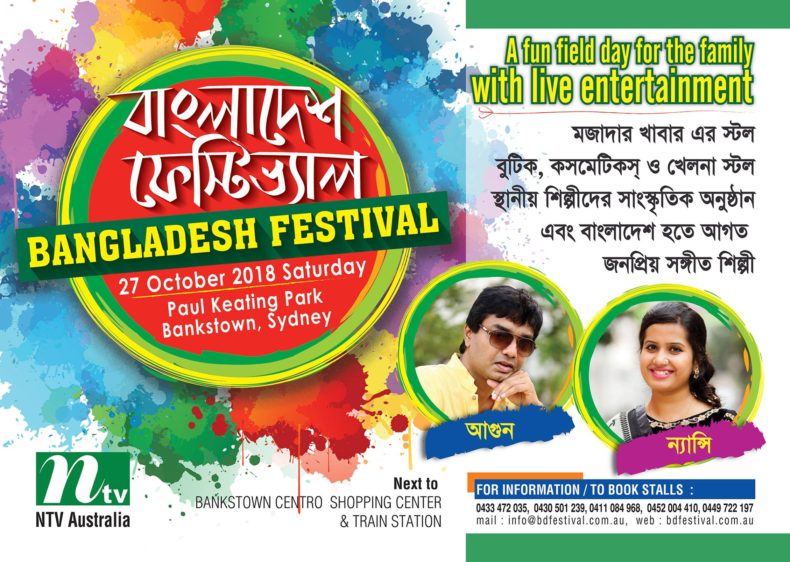 Bangladesh Festival 2018 || Sydney
Date27 Oct, 2018
Starts09:00
Ends21:30
VenuePaul Keating Park
LocationThe Mall, Bankstown NSW 2200
StatusFree Entry
Bangladesh Festival Australia 2018 one of the Sydneys premium cultural show on heart of Bankstown Paulkeating park. Free access for all .
Live entertainment will keep festival goers amused. As well as a variety of different mixed stalls offering the best international cuisines our diverse City has to offer.
Youth group engagement
Art Show
Rides for kids
Food and merchandise stalls
Live entertainment
Stage Performances
বাংলাদেশের সংস্কৃতি বিশ্বের দরবারে তুলে ধরার যে প্রয়াস, প্রথমবারের মতো বাংলাদেশ ফেস্টিভাল আয়োজনের মধ্য দিয়ে তা পরিপূর্ণতা পায়



Get Direction here
Event forecast
Oct 27
Partly cloudy until afternoon and breezy starting in the afternoon, continuing until evening.
Use TransportNSW Planner
---
---