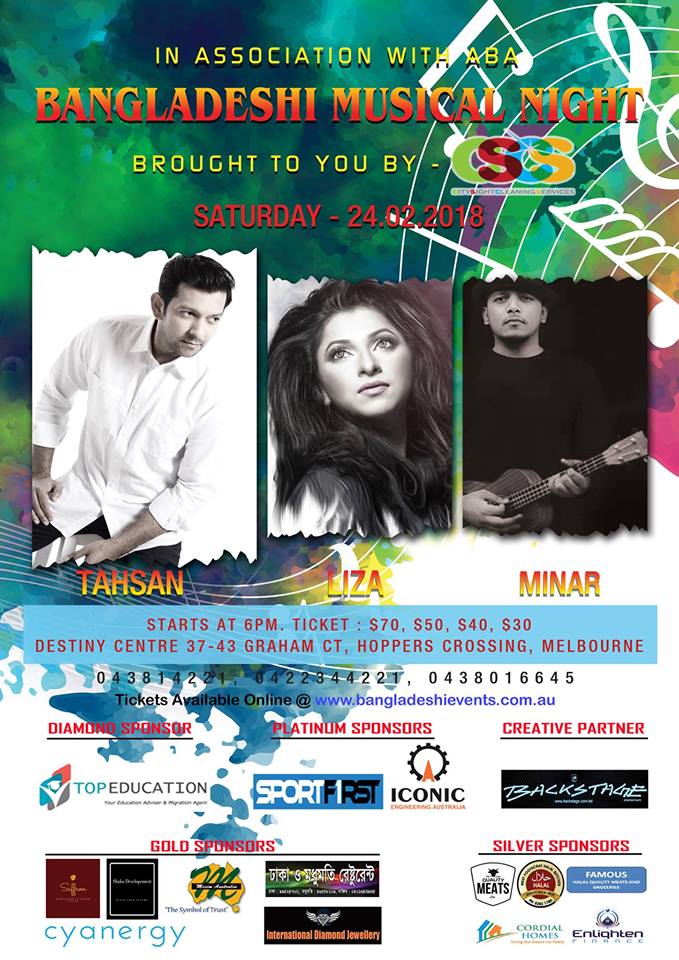 Bangladeshi Musical Night || Melbourne
Date24 Feb, 2018
Starts06:00 pm
Ends10:30 pm
VenueDestiny Transformations
Location37-43 Graham Ct, Hoppers Crossing VIC 3029
StatusTickets Available
Bangladeshi Musical night featuring "TAHSAN KHAN", "MINAR RAHMAN" & " SANIA SULTANA LIZA" on February 24, 2018 at Destiny Centre , Hoppers Crossing. Brought to you By City Sight Group Ltd in association with Australia Bangladesh Association Inc.


Sania Sultana Liza is a Bangladeshi popular singer who is best known around the country by her stage name LIZA. She is so much talented singer draws the attention of listeners within very short time. Liza was the winner of the music reality shows CLOSE UP-1 in 2008. Her second music album 'Pagli Suraiya' was super hit music album, the title track of the album got huge views on Youtube. The song Pagli Suraiya's music video aired on the UK-based Bollywood music channel B4U Music, she is the first Bangladeshi female singer that her song aired on the channel. She already plays backed in more than 40 cinemas and gives voice in 50 plus mixed album.

Minar Rahman is a Lyricist, Singer, Composer and Actor. Currently one of the top ranked singers in Bangladesh. He is the first musician in Bangladesh whose song "JHOOM" got most (20 million plus) viewed on YouTube. Talented musician Minar Rahman started his composing at year 10. His first album's song "SHADA" composed by Tahsan Khan was top hit in that year. Some of his famous songs are "Shada" "Aha Re" "Jhoom" "Dan Pithey" "Chader Golpo" "Deyaley Deyaley" "Ta jani na" "Karone Okarone" and many more.

Tahsan Rahman Khan is a multi-talented professional. Not enough word to explain his contribution to Bangladeshi entertainment industry. He is an actor, model, singer, lyricist and composer. Besides his media career, he is also a successful university teacher in Bangladesh. Tahsan is more highly educated in the media world who took education from IBA that is most desirable educational institute to the Bangladeshi student. He already proved his talent in all fields such as acting, singing, teaching, composing etc. Tahsan Rahman Khan was a member of Bangladeshi band named Black. He showed his terrific acting performance in the TV dramas/commercials of Bangladesh. Tahsan is a multi-talented professional in the country. He released more than 10 studio albums about 3 band albums, uncountable singles. Some of his famous songs are "Alo" "Premmatal" " Megher Pore" " Keno Hotath Tumi Eley" " Chuya Diley Mon" " Keu Na Januk" "Hotath Eshesilay" "Irsha" list goes on.


Do not miss the opportunity to enjoy full 4 hours nonstop music which will be played by 3 most popular singers in Bangladesh and the biggest musical event have ever organized in melbourne. See you all in Bangladeshi Musical Night on 24th February 2018 at Destiny Centre ……………………………
Please note: Free childcare and free parking facilities at the venue and if you are hungry don't worry there will be a food stall for you as well.


Event promo
Get Direction here
⚜ Check our All events
HERE