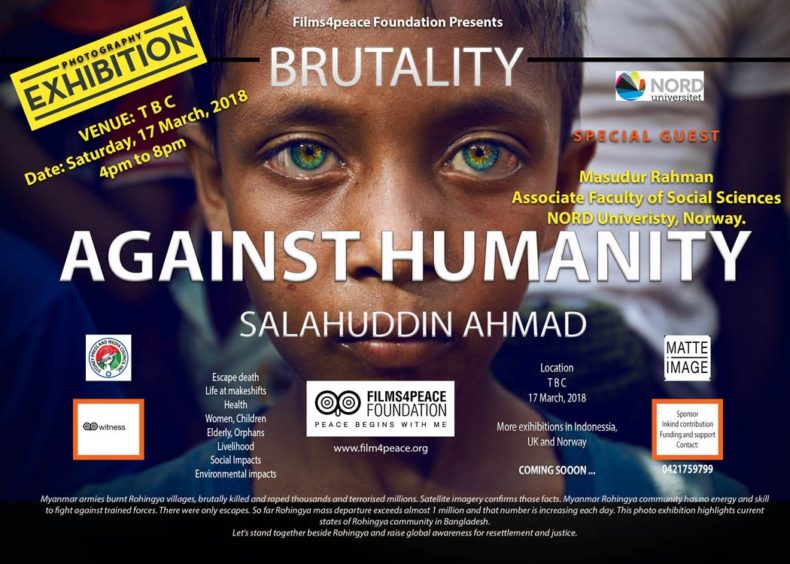 International Day for the Elimination of Racial Discrimination || Melbourne
Date17 Mar, 2018
Starts16:00
Ends20:00
VenueRichmond Library Meeting Room
Location415 Church Street, Richmond, VIC
StatusFree Entry
In occasion of International Day for the Elimination of Racial Discrimination, World Poetry Day and International Day of Forests on the 21 March, 2018, I would like to take the opportunity to invite you to attend photography exhibition "Brutality Against Humanity"

You may aware, what had happened with the Rohingya community in Myanmar. Myanmar armies burnt hundreds of Rohingya villages, brutally killed and raped thousands and terrorised millions. It was planned, coordinated and targeted against Rohingya community. Myanmar Rohingya community has no energy and skill to defend against trained forces. There were only escapes. In this Genocide, UN estimated, more than 780,000 Rohingya fled to Bangladesh from Rakhine State, Myanmar.

Most recently I was in Ukhiya and Teknaf, in Coxs Bazar district, Bangladesh visiting displaced Rohynga community living in the makeshifts on the hills along Cox's Bazar – Teknaf highway. In this this photography exhibition, I am going to present some of my experience and highlights of current states of Rohingya community in Bangladesh. However, the objectives of this photography exhibition are:

1. Global advocacy
2. Rehabilitation, Resettlement and Repatriation (RRR for Rohingya).

Location: Richmond Library Meeting Room
415 Church Street, Richmond
Date and time of the event: 17 March, 2017 4pm – 7pm
(please arrive by 4:15)

Special guest: Masudur Rahman, Associate Faculty of Social Sciences, NORD university, Norway.

Again, I would like to invite you to attend the photo exhibition and participate in discussion. Lets, stand together beside displaced Rohingya and raise your voice against genocide, raise global awareness for Rehabilitation, Resettlement and Repatriation (RRR for Rohingya).
We look forward to your presence at the photo exhibition and future collaboration.

In Solidarity

Salahuddin Ahmad



Get Direction here
⚜ Check our All events
HERE