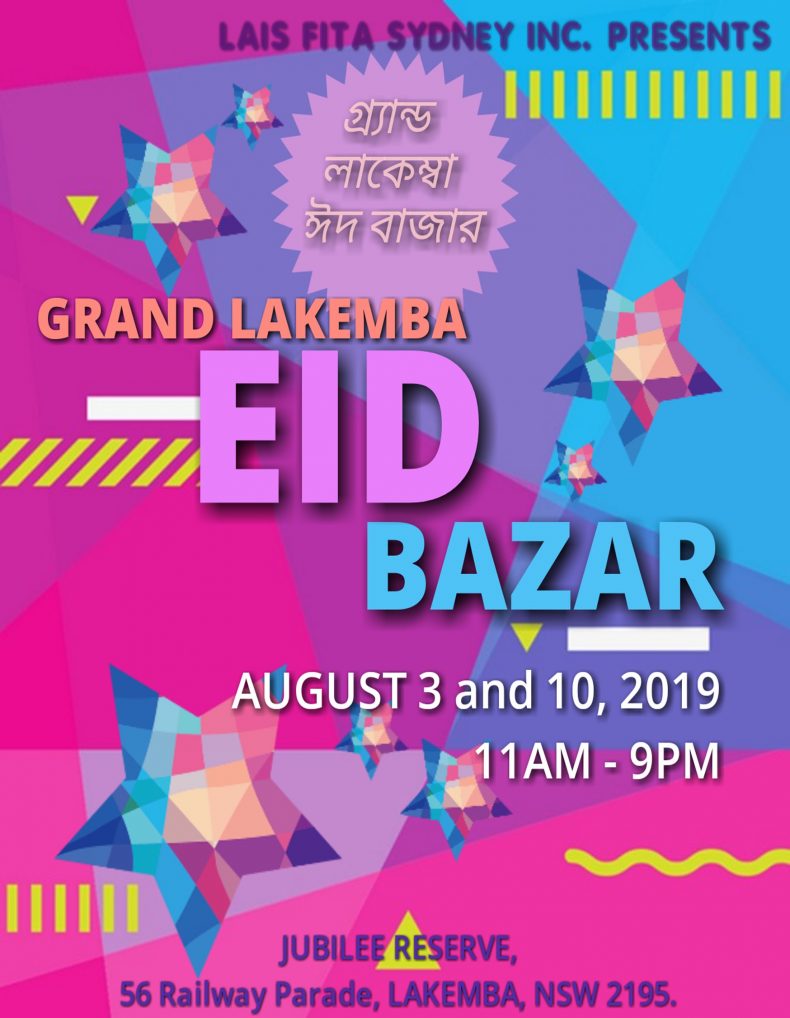 Grand Lakemba Eid Bazar || Sydney
Date03 Aug, 2019
Starts11:00
Ends21:00
VenueJubilee Reserve
Location56 Railway Parade, Lakemba NSW 2195
StatusFree Entry
Grand Lakemba Eid Bazar

Eid festivals have transpired in many locations as an important instrument for promoting business, social harmony and enjoyment.
It is with great pride and pleasure of Lais Fita Sydney Inc. that we are going to present you "Grand Lakemba Eid Bazar" for 2019.
Each year we have been viewing our Eid festival grows into something bigger and better. The Owners and founders Tammi Parvez and Masud Parvez of Lais Fita Sydney Inc. took this initiative to organise this grand event for Eid-ul-Adha occasion.

Grand Lakemba Eid bazar invites you to come and indulge in a new fashion that will showcase the collections of the 30+ entrepreneurs in a big stand. Those fashion houses will take part in the event title "Grand Lakemba Eid Bazar" to present their items ahead of this Eid ul Adha.

We are very excited to announce that this year Eid festival will be 2 consecutive Saturdays. They are on 3rd of August and 10th of August 2019.
Fashion stores from Sydney and Melbourne are joining this time to load customer's wardrobe with exclusive and gorgeous attires and accessories. The Eid bazar is opened for all from 11 am to 9 pm. This event showcases products like traditional sarees, Salwar Kameez, Kurtis, long gowns, stunning jewelleries, winter Shawls, kids collections. Men's collections, Beauty products, kids toy and a vast range of delicious foods and winter pita's.
This Eid Bazar will attract more and more young entrepreneurs as well as visitors to participate and direct, connect and interact on the most recent fashion and trends of Bangladeshi culture. It is not for profit event with the mission to bring the Bangladeshi Community together in a festive environment.
The main aim is to support the communities, social-cultural and economic benefits of cultural diversity.
So please stay tuned and join us with your family and friends to complete your Eid shopping under an open roof.
This is an event that not to be missed!



Movie Trailer
Get Direction here
Event forecast
Aug 3
Partly cloudy throughout the day.
Use TransportNSW Planner
---
---