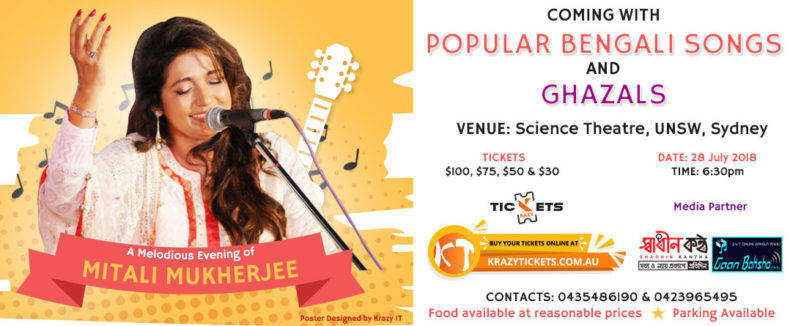 Mitali Mukherjee Concert || Sydney
Date28 Jul, 2018
Starts18:30
Ends22:30
VenueThe Science Theatre
LocationF13, Union Rd, Kensington ,NSW 2033
StatusTickets Available
"Mitali Mukherjee Concert in Sydney"

Bangladeshi Idol has been organising Musical events since 2005. They have organised some exemplary concerts with Legendary Signer Sabina Yasmin, Samina Chowdhury, Fahmida Nabi, Partha Barua, SI Tutul, Bappa Mazumder, Habib and Ferdous Wahid.

In this concert they have come with an outstanding Bengali and Ghazal Singer Mitali Mukherjee. To name some of her famous Bengali songs "Ei Duniya Ekhon To R Sei Duniya Nai", "Harano Diner Moto Hariye Geso", "Je Tuku Somoy Tumi Thako Kase". She got national award for the song "Ei Duniya Ekhon To R". And, to name some of her ghazals "Shamma Jalaye Rakhna", "Raaho Pe Nazar Rakhna".

This will be one of the mesmerising musician evening for Sydnesiders. We invite you to come and enjoy this!!

For any queries regarding this event please contact with the organizer at 0435486190 and 0423965495.



Event Promo
Get Direction here
Use TransportNSW Planner
---
---