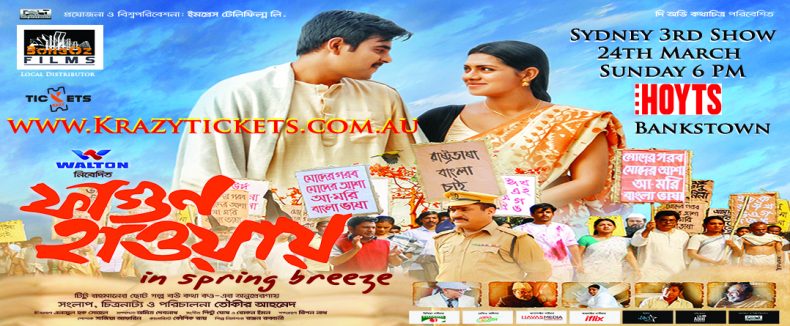 Movie: Fagun Haway 3rd Show || Sydney
Date24 Mar, 2019
Starts18:00
Ends21:00
VenueHOYTS Bankstown
Location63 The Mall, Bankstown NSW 2200
StatusTickets Available
The first ever film based on our 1952 Language Movement directed by Tauquir Ahmed. Relive our pride on 23rd February Saturday 3 PM at HOYTS Bankstown.

creenplay, Dialogue & Director: Tauquir Ahmed
Produced by: Faridur Reza Sagar
Story by: Tito Rahman (Bou Kotha Kou)
Starring: Yashpal Sharma, Siam Ahmed, Nusrat Imrose Tisha, Fazlur Rahman Babu, Abul Hayat, Saju Khadem, Afroza Banu, Shahidul Alam Sachchu & Rownaq Hasan
Global Distributor: The Abhi Kathachitra
Local Distributor: BongOz Films

For queries regarding this event, please contact with the organizer at 0406 063 058.



Movie Trailer
Get Direction here
Use TransportNSW Planner
---
---