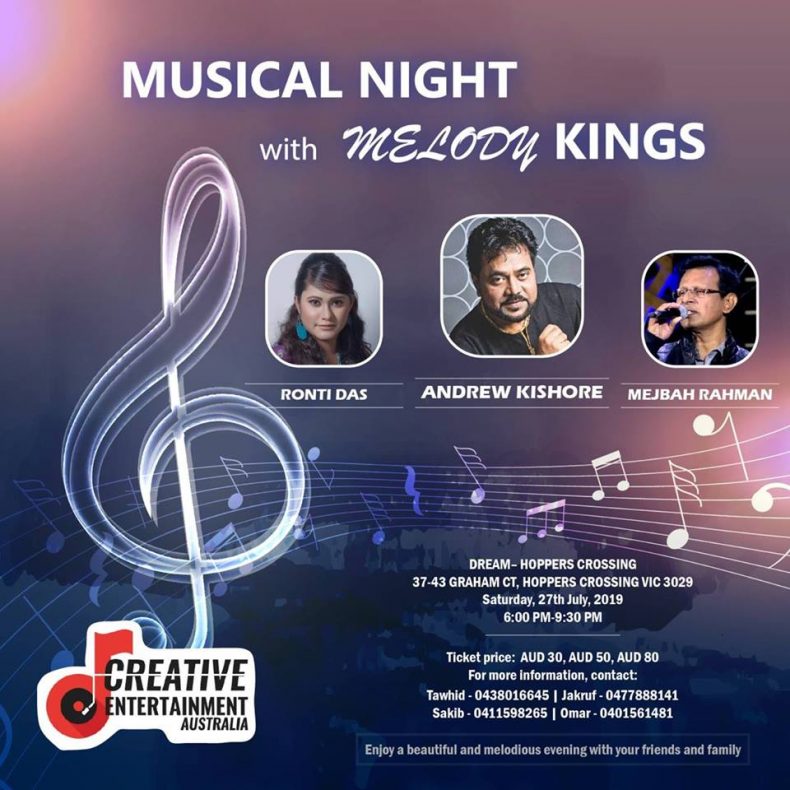 Musical Night with Melody Kings || Melbourne
Date27 Jul, 2019
Starts18:00
Ends21:30
VenueDreambuilders Church Melbourne
Location37-43 Graham Ct, Hoppers Crossing VIC 3029
StatusTickets Available
🎸🤘 MUSICAL NIGHT WITH MELODY KINGS 🎸🤘

Creative Entertainment Australia announces a special Bangladeshi musical night live concert titled "Musical Night with Melody Kings" live in Melbourne! featuring three and half hours of live music with greatest of all time hit songs of three most famous artists of Bangladesh: King of playback music Andre Kishore, the star performer of band music of Bangladesh Mejbah Rahman and Close up1 superstar Ronti Das. The event will be supported by the Australia Bangladesh Association (ABA Victoria).

We are endeavors to undertake the number of events to enhance friendship, bondage, communication, team spirit, and nurture cultural heritage within Bangladeshi Australian community living in Victoria which would help promote multiculturalism within the society.




Get Direction here
Event forecast
Jul 27
Mostly cloudy throughout the day.
---
---