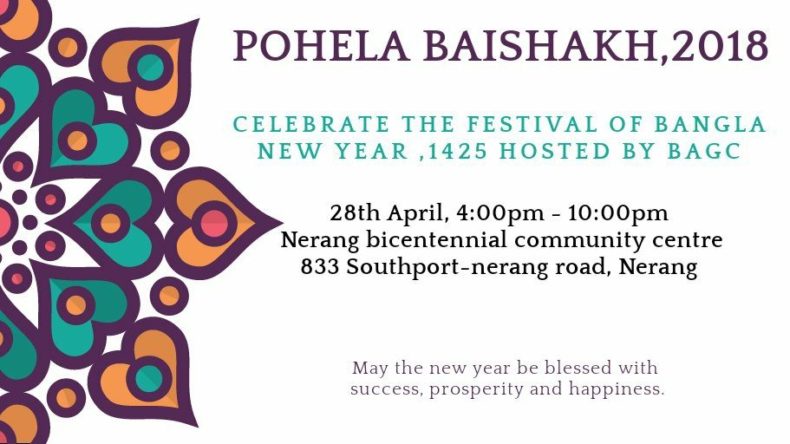 Pahela Baishakh 1425 || Gold Coast
Date28 Apr, 2018
Starts16:00
Ends22:00
VenueNerang Bicentennial Centre
Location833 Southport - Nerang Rd, Nerang QLD 4211
StatusFree Entry
Dear all respected community members,
Bangladesh Association of Gold Coast Inc. (BAGC) would like to invite you to Celebrate Bengali New Year 1425 on the 28th of April from 4:00pm to 10:00pm at nerang bicentennial community centre. For the first time ever we will have Baishakhi Mela organised by BAGC along with our traditional cultural programme.
Baishakhi mela will start at 4:00pm and finish at 6:00pm, where we will have variety of stalls by our community members ,which will include food and beverages.
And the main attraction our cultural programme will start at 6:00pm and will finish at 10:00pm. There will be lots of performances from our community members and it will be a night to remember. So be prepared for event full day.
It will only be a celebration if we all participate. It is our pleasure and we look forward to host you for a great evening and celebrate our new year.
Thank you
BAGC management committee
Get Direction here
---
---