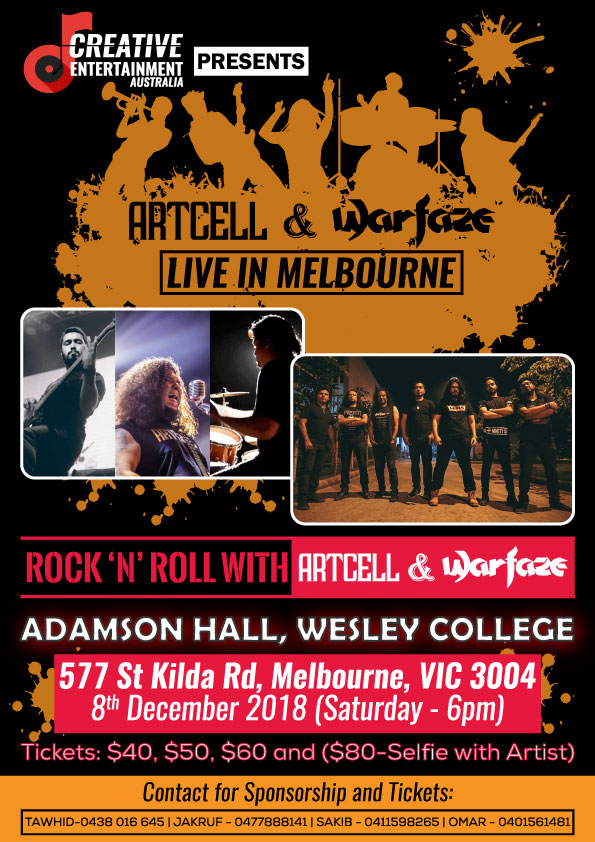 Warfaze & Artcell Live 2018 || Melbourne
Date08 Dec, 2018
Starts18:00
Ends22:00
VenueAdamson Hall, Wesley College
Location577 St Kilda Rd, Melbourne
StatusTickets Available
🎸🤘 WARFAZE & ARTCELL, LIVE IN MELBOURNE 🎸🤘

Creative Entertainment Australia announces special Bangladeshi Victory Day Celebration concert titled "ROCK N ROLL with "Warfaze & ARTCELL", LIVE IN MELBOURNE" featuring four hours of live music with greatest of all time hit songs of two most famous bands of Bangladesh "Warfaze & ARTCELL".

TICKETS:
🎫 Basic $40
🎫 Standard $50
🎫 Premium $60
🎫 V.I.P & Selfie with Artist $80

For group bookings or special reservations, please contact Tawhid – 0438 016 645

🏟️ VENUE: Adamson Hall, Wesley College (577 St Kilda Rd, Melbourne VIC 3004)
🕒 TIME & DATE: 6pm-10pm Saturday, 8th of December
🎫 ONLINE TICKET SALES: http://bangladeshievents.com.au.

For sponsorship opportunities, please also contact:

Jakruf Chowdhury-0477888141
Sakib Ansari-0411598265
Omar Nafiz- 0401561481
Tawhid – 0438 016 645

Creative Entertainment Australia endeavours to undertake number of events to enhance friendship, bondage, communication, team spirit and nurture cultural heritage within Bangladeshi Australian community living in Victoria which would help promote multiculturalism within the society.



Get Direction here
Event forecast
Dec 8
Partly cloudy throughout the day.
---
---