২৪/৭ বাংলা রেডিও
রেডিও গান বাকসো ২৪ ঘণ্টা সিডনি, অস্ট্রেলিয়া থেকে শুধু মাত্র বাংলা গান / অনুষ্ঠান সম্প্রচারে প্রতিজ্ঞাবদ্ধ। আমরাই সিডনির একমাত্র অনলাইন কমিউনিটি রেডিও।
ইভেন্ট ও কনসার্ট
গান বাকসো অস্ট্রেলিয়ার অফিসিয়াল এবং সর্ব বৃহৎ বাংলাদেশী ইভেন্ট প্লাটফর্ম। অস্ট্রেলিয়ার কনসার্ট একমাত্র আমরাই সম্প্রচার করে থাকি বিশ্বজুড়ে।

মোবাইল অ্যাপ ও ডেস্কটপ প্লেয়ার
যেকোনো অ্যাপেল অথবা অ্যান্ড্রয়েড ডিভাইস থেকে আমাদের ফ্রী মোবাইল অ্যাপ ডাউনলোড করুন। অথবা ফেসবুক, টিউন-ইন এমন কি যেকোনো ডেস্কটপ প্লেয়ার থেকে শুনুন লাইভ

Mission
Showcase Bengali Music globally and serving diaspora community locally.
Vision
To become a reliable one stop community platform which eventually transforms into Cultural FM Radio Station & ensuring worldwide access to Bengali music lovers Online
About Us
Radio "Gaan Baksho" is the radio alternative for people curious about community cultural news, and music. We are as diverse as the city we live in, with music programs across the spectrum, arts and culture, current affairs, issues and ideas, along with many programs presented by local community groups in Bangla language.

Radio Gaan Baksho proudly broadcast and promote Bangladeshi Events from Sydney, Melbourne – Victoria, Brisbane, Adelaide, Perth, Darwin, Canberra, Hobart, Gold Coast, Newcastle, Cairns, Albury, Dubbo, Tasmania, Tamworth, Wollongong, Nowra and other locations in Australia. Anyone can buy Event tickets online from here with one click. We are the biggest Event promotional Hub at Bangladeshi community Australia wide based in Sydney. Event Organizers also can submit their event(s) here for free.

In 2018, we celebrate our 4th birthday. We are proud to be the first 24/7 HD online Bangla community radio station in Sydney, AU, launched by Alvin Soura Pandey on 1 Oct 2014, backed by a group of Bangladeshi mainstream celebrities. We aim to make the strongest Bangla community radio station in Sydney by engaging and entertaining audiences with a wide variety of Musical programs presented by the community, for the community. You can stream us live online anytime, anywhere.
Executive team
Alvin S Pandey
Alvin is a Bangladeshi Audio Engineer and Composer. He has worked on various production/post-production with Artists from Bangladesh and Australia. Alvin pioneered in introducing HD Surround Audio Song in Bangladesh. He has studied in Studio Production at Berklee College of Music and Network Security at Federation University. Radio Gaan Baksho was officially launched on 1 Oct 2014 by Alvin Pandey
Aditi S Barua
Aditi Sreyashi, a prominent community figure who has been dedicatedly involved in maintaining culture and celebrates diversity in Australia through her multiple talents. Aditi is professionally a community services caseworker, Bengali interpreter and singer. She has been working tirelessly for diaspora communities in Sydney through her entertaining & communication skills.
Aditi has completed her masters in International Communications from Macquarie University and takes immense pride in her community involvements. We are thrilled to have such a passionate head of PR.
Rubayat Halim
Rubayat Halim is a Sydney based Bangladeshi IT professional who holds the passion and vision to uplift the flag of Bengali custom and culture in global arena. He was an active group theater member in Chittagong during his school and college years. Being an IT graduate from Charles Sturt University he has also attained formal training on Film making from Australian Cinematography Society. He has experience on planning and organizing programs and functions both in Bangladesh and Australia.
Creative team
Pritam Dasgupta
Brand Executive
Joel D Costa
Bangladesh Correspondent
Farhad Kamal
Queensland Correspondent
Asker Bin Asraf
Victoria Correspondent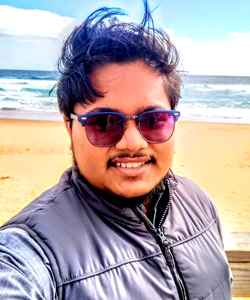 Ahsanul Karim
Victoria Correspondent
Shirin Akhter
Newzealand Correspondent