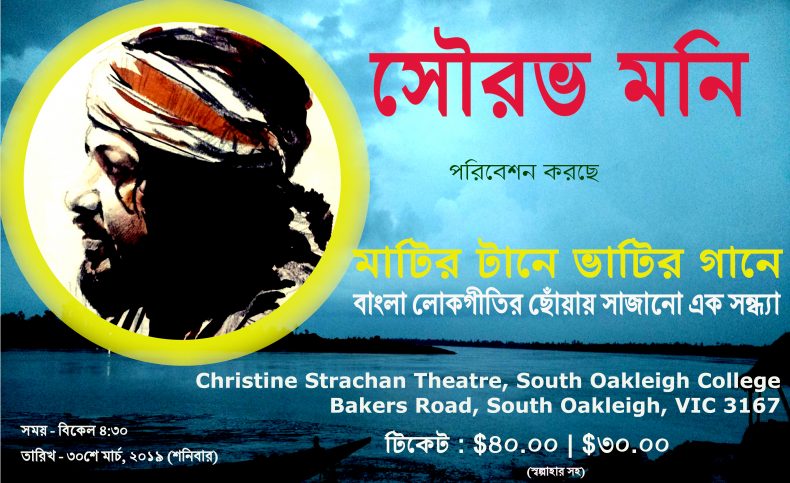 মাটির টানে ভাটির গানে || Melbourne
Date30 Mar, 2019
Starts16:30
Ends21:00
VenueChristine Strachan Theatre
LocationSouth Oakleigh, VIC 3167
StatusTickets Available
মাটির টানে ভাটির গানে

গ্রাম বাংলার পরিচিত-অপরিচিত গান নিয়ে সৌরভ মনির এই পরিবেশনা। আবার গ্রামে ফেরত যাবো আমরা – চলে আসুন, ৩০শে মার্চ, ২০১৯ ঠিক বিকেল ০৪:৩০ টায়।

Saurav Moni has carved a niche in the hearts of audiences. His extensive repertoire of music includes Bhatiali, Baul, Murshidi, Marfati, Sari, Jari, Islami, Dhuaa, Bhawaiya, moribund village hymns (Pallygiti) and transcendental verses He has performed all over India and abroad (United Kingdom, France Etc.). Saurav also appeared in TV programmes (MTV, Sony Mix, N TV (Europe), S TV (London), Desh TV, Tara Music etc.) and movies (Moner Manush, Children of War etc.
He has also been covered by print media including India Today, Quest France, Filmfare, Times of India, International Herald Tribune, Forbes India and many more. Now for the first time, Saurav is coming to Melbourne. Do not miss this mesmerising evening of the year an opportunity to go back to your root.


Event Promo
Get Direction here
---
---