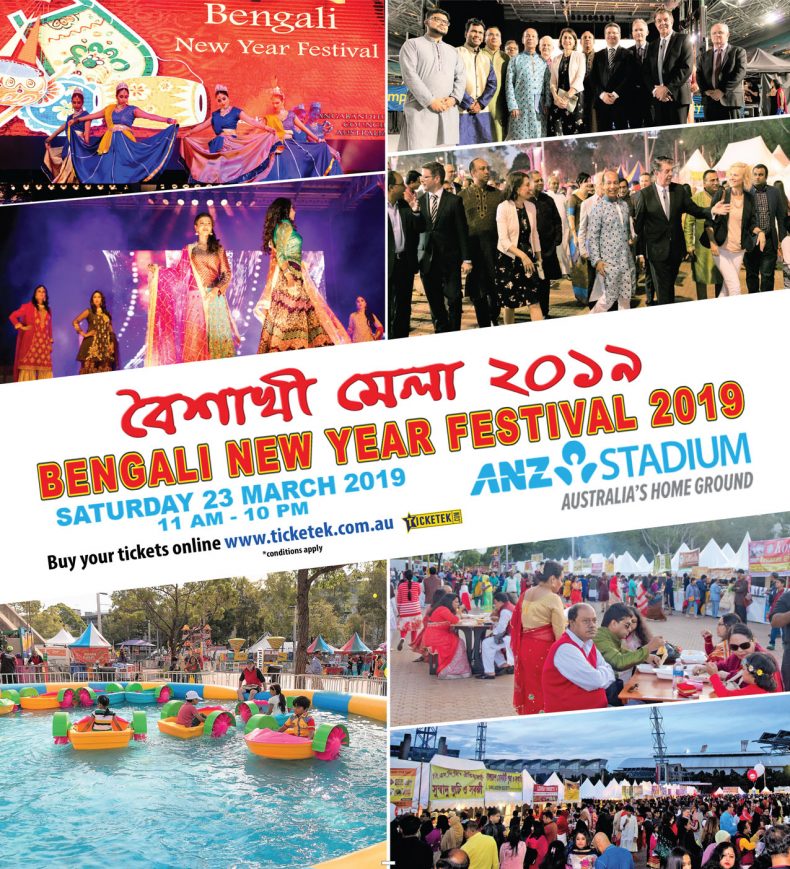 BOISHAKHI MELA 2019 | ANZ Stadium || Sydney
Date23 Mar, 2019
Starts11:00
Ends22:00
VenueANZ Stadium, Sydney Olympic Park
LocationEdwin Flack Ave, Sydney Olympic Park NSW 2127
StatusTicket Releasing Soon
Bengali New Year Festival 2019
by Bangabandhu Council Australia

In early 90's the convener of the organisation came up with the idea of celebrating Bengali New Year Festival. After some discussions in the committee and with other community groups they decided to organise Boishakhi Mela (Bengali New Year celebration). Boishakh is the first month of Bengali calendar. It is a solar calendar. And the first day of Boishakh generally corresponds to 14 April. Bangabandhu Council Australia organise Boishakhi Mela(Bengali NewYear Festival)in Sydney Olympic Park.It's the biggest Bengali Community Event in Australia.

The Bengali New Year Festival, the largest community event in Sydney about to be celebrated again at the ANZ Stadium on 23rd of March 2019. Over 30000 people are expected to gather at this world class venue to celebrate the Bengali New year. We invite everyone to enjoy the festivity, busk in the colour and fall in love again.



Event Promo
Get Direction here
Event forecast
Mar 23
Partly cloudy throughout the day.
Use TransportNSW Planner
---
---